With these ever changing methods of delivering education, humans have progressed from traditional on-campus classroom environments to customized online sessions. With the advent and evolution of the internet, E-learning has gained new grounds in the field of delivering education.
But, have you ever thought, what leads to an increase in the number of students who are using e-learning portals? Let's throw a light on some major advantages of E-learning that has greatly increased its demand in the market. Nothing can ever be as easy as learning without carrying the burden of books on your shoulders. Yes, first and foremost you are saved the labor of carrying heavy books to the coaching centers. It also helps in easy management of data as all the data is stored in a single system and you are not required to safely store your books for future reference. All you have to do is, plug-in your laptops and get ready to be acquainted with an ocean of knowledge.
Modern technology has made online learning very easy as e-learning portals use videos, audios, and 3-D designs to explain various concepts which can be effortlessly understood. This not only enhances a student's virtual imagination but also broaden the minds of students to think in various directions. A much greater range of media like simulations, interactions, scenarios and visual story telling can be used. Unlike coaching centers, there is no time boundation. One can start learning anytime, anywhere thus giving preference to increased personalization of scheduling a factor critical for modern learners. E-learning in a way turns the world into a classroom or just the corner of your bedroom if you prefer. Stopping, starting, replaying a particular video or audio are some features of E-learning that cannot be applied in a physical classroom.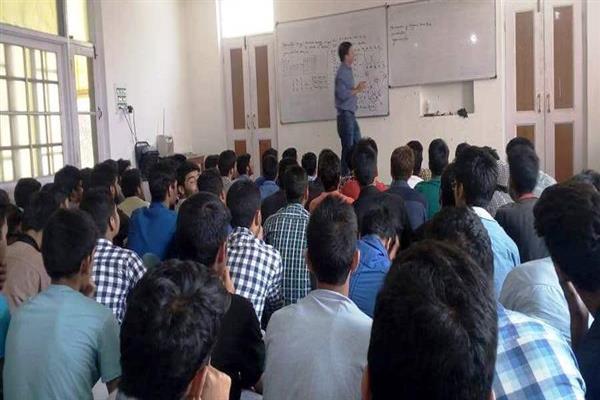 Coaching classes nowadays have become more of a trend and crowd puller than an effective method of teaching. Multiple batches with more than hundred students in a particular batch make the learning less effective owing to the distractions one faces in a classroom. Also, students are not able to retain completely whatever has been taught in the class. On the other hand, one minute of classroom time is not equal to one minute of online training. A Larger rate of knowledge is retained when a student studies all by himself without any hindrance in his understanding.
E-learning in a way acts as a one-stop platform, which provides you knowledge of every individual subject and topic -"All at one place". No matter whether you were able to attend a particular lecture at a specific time, you can always go back and learn again whenever you have time.
Traditional ways of learning are more into use as this method is being carried out for ages and has also led to the emergence of coaching centers, but that does not state the fact that this method is the best. Advancement has always been the law of the world and with an advancement towards E-learning, we are taking a step further toward digital India.

Written By:
Anamika Jakhmola